About Architecture Analysis & Design Language
AADL was approved and published as SAE standard AS-5506 in November 2004 and continues to undergo revision. WWTG products and services can support this rich open source language enhancing its usefulness to you in the modelling of complex software dependent systems.
Additionally, extension mechanisms such as Safety, Behavior, Error, ARINC 653, etc., contribute to more meaningful models of systems in AADL. The standard continues gaining wider acceptance in the automotive, avionics, aerospace, medical, robotics and energy industries.  Finally, by providing specialized components with interfaces and enabling interactions with the execution environment, AADL gives clearer definition to systems and their hardware and software architectures making it important to the future of MBSE.
EDICT Leverages AADL for MBSE
EDICT makes use of Architecture Analysis & Design Language in a way that enables a more explicit design model. Our tools improve the precision of AADL by enhancing the language capabilities and also eliminating steep learning curves associated with learning MBSE technologies. Thus allowing the application of accurate analyses to the system model by a more faithful representation of the models' entities, their relationships and properties.
EDICT Harnesses Architecture Analysis & Design Language
Providing a richer Graphical User Interface (GUI) for modeling tasks EDICT also allows users to import their AADL models. Once imported, the models are available for viewing and working within this GUI. Allowing enhancements to the models, saving and exporting of your models as AADL representations takes this modelling language to another level.
Hence, architects and modelers do not need to learn complicated syntax for standard modeling formats. Rather they are able to jump right into the task of modeling the system. Thus easing the way to obtain requirements, design, and constraint information.
EDICT's GUI overcomes obstacles of learning the language.
Eases access to relevant knowledge & information.
Allows designers to define properties empowering integration of their constraints.
Provides the ability to communicate through models more effectively and accurately.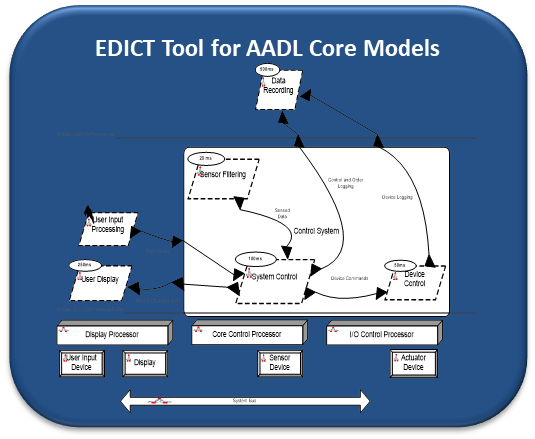 Click below to request more information about EDICT